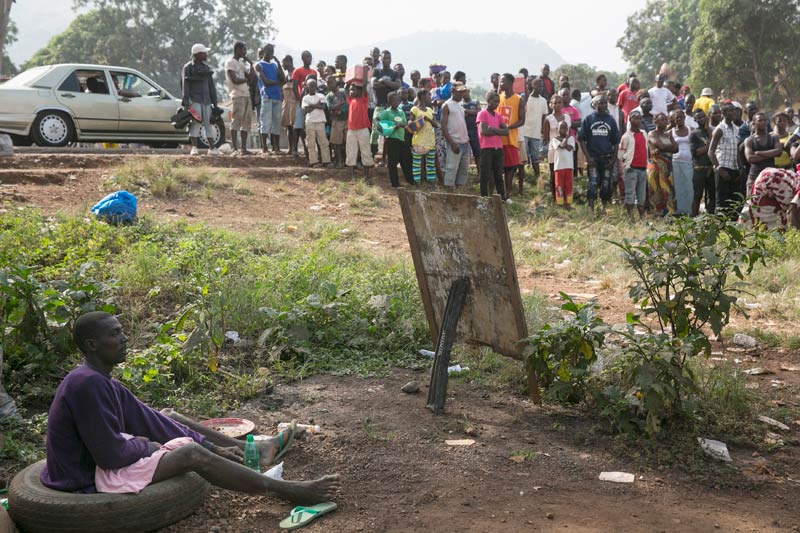 Brian Lomax (26) sleeps on a pile of bones – the remains of cremated Ebola victims whose relatives may never get the chance to collect.
He was hounded out of his community by neighbors who feared his work at the Margibi crematorium in Boys Town, Lower Margibi county, was helping to spread the disease rather than contain it. This is the only place he has left to go.
Lomax is just one of many Liberians whose lives have been altered by the cremations at Margibi, which came to an end in December after a burial site was found for new victims.
For authorities and health workers, who believe they are now beating back the virus, the cremations – an alien and unwelcome practice in Liberia – were a successful measure that helped contain the disease.
"Cremation is not our culture. It was due to necessity that we had to cremate people, but it worked very well," said Tolbert Nyensuwah, head of the government's Ebola task force.
However, over the past four months, waves of protests have taken place against it. Those who worked at the facility are left facing stigma, and the relatives of those who were cremated have no graves for their loved ones.
Liberia was the country hardest hit by the Ebola outbreak, which has now claimed over 8 500 lives. In the midst of the crisis, disposing of the bodies of victims quickly and safely had been, and remains, paramount, as the bodily fluids from the corpses can still transmit the virus.
By August last year, Liberia's government was struggling to keep up with the rising death toll. Underpaid, under-equipped and overworked burial workers couldn't cope. When teams clad in space-man like protective suits came to collect victims, terrified residents often chased them out.
'Nights of terror'
When members of Margibi county's Indian community, which ran the Margibi crematorium 50 miles from the capital, offered to help, it seemed like an obvious solution. A group of Liberians were quickly taught how to carry out the Indian cremation method to dispose of the bodies.
Sometimes up to a hundred bodies were burned at once. Members of the community living nearby reported huge explosions as it burned with smoke rising through the air. Disturbed by the process, they called it 'nights of terror'.
The burial process and honoring deceased relatives is an important tradition in Liberia, and often involves touching the body of the deceased. On decoration days, crowds visit cemeteries to clean and decorate the graves of relatives. The cremations, which were often rushed and en masse, left many relatives alienated, and often unable to locate and identify the remains of their loved ones.
Lomax, a student who had never worked in a crematorium before, was one of those who volunteered to work at the crematorium. "[We] opted for it because we had to do a service to the country because no one wanted to do such a work," Lomax said.
"When they [the government] got here, they put us together and told us that this issue was an emergency issue, so we did not discuss anything with them," he said. "All of a sudden they started the method that the Indian people taught them. They started training us on the method to carry out the cremation."
The process of cremation burns corpses, but the bones then have to be ground to a powder afterwards – a stage that was neglected in the Margibi crematorium.
"All these containers are filled with human bones and because we have nowhere to go, we sleep with the bones [inside this] fence," Lomax said, pointing to a row of steel drums which he and his colleagues were placing wooden planks over to form makeshift beds every night.
In August 2014 President Ellen Johnson Sirleaf decreed that the bodies of Ebola victims be cremated: "this measure is intended to avoid tampering with the dead and contaminating water sources", she said.
But promises that the ashes of Ebola victims would be handled respectfully and returned to family members quickly unraveled. The overwhelmed workers at Margibi didn't know what to do. Some days, dozens of corpses arrived. Hundreds are thought to have been cremated at the site between August and December.
"This is the largest altar where we burned 145 bodies. The ashes were too much, and we had nowhere to put them. [Back] then we had no knowledge of bringing in drums," Lomax explained, referring to the steel drums brought in by the government when they decided to preserve the ashes.
"So we just wasted [dumped] it in these holes. Later they decided that we use the drums," he said. For those whose bones and ashes could not make it into the zinc containers, their bones are all dumped in a pit resembling a mass grave.
"This is how people who died from this deadly disease were treated here," said Lomax.
Bones lie waiting to be claimed
The Boys Town community called for all cremations to stop, and eventually a new burial ground was found on Disco Hill, also in Margibi County, where Ebola victims will be interred from now on.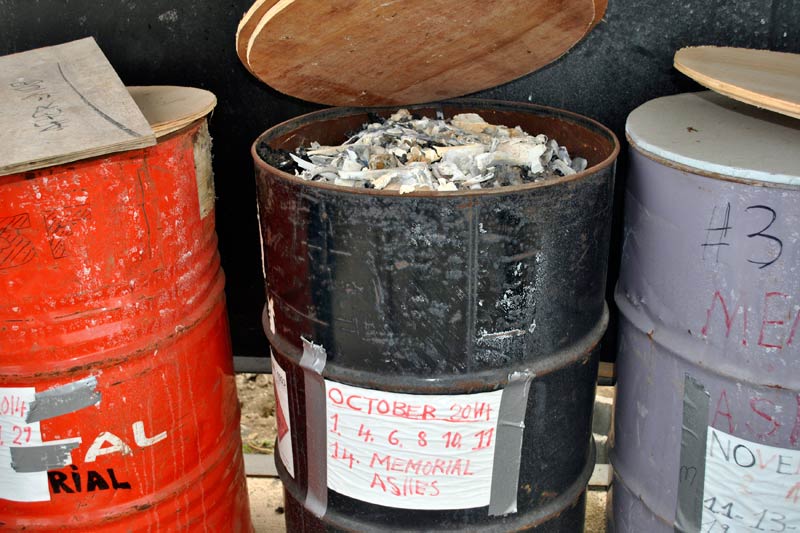 Bone fragments are seen in a barrel of the cremated remains of Ebola virus victims in Boys Town on January 9 2015. (Pic: Reuters)
The bones now sit in silent rows, unmarked for any relatives who might want to claim them back. The only clue to the identity of those who remains are stored inside are the dates scrawled on the side of each container.
Lomax has been outcast for his work at Margibi, believed to be the country's only crematorium for Ebola victims.
"My father has his house right behind here but he told the children I shouldn't go there because I am working here and burning Ebola bodies. He said he does not want me to carry the virus to his house," he said quietly.
Just over a month ago, their bosses stopped coming to work and he worries about money. He and his colleagues fear they may never reintegrate into society.
"For the past three weeks we have not seen our bosses. After all that we have done, at least we should have been settled [paid] ."
Tibelrosa Tarponweh, a local resident, called for counseling services to " be provided to members of the community, including a select few that were hired without proper guidance to perform such an abnormal task." He said the lack of training for Lomax and his colleagues had led to a "sloppy and harmful" process.
He called for the government "to secure and preserve the now-defunct crematorium for use as a shrine in memory of our fallen compatriots."
Wade Williams and Monica Mark for the Guardian Africa Network
by Guardian Africa Network